A HISTORY OF THREDDY
October 26, 2023
In 2019 I attended the Microsoft Ignite conference and gave a talk titled "Threddy and the Dinosaurs". This post is an expanded version of that presentation.
In the following sections you'll read about ceramic dinosaurs, t-shirts, comics, enamel pins, employee training, and even a museum. 😊
The conference itself was awesome - I met a ton of great people, handed out stickers and pins, and got to talk about something I really care about. I consider that week a career highlight.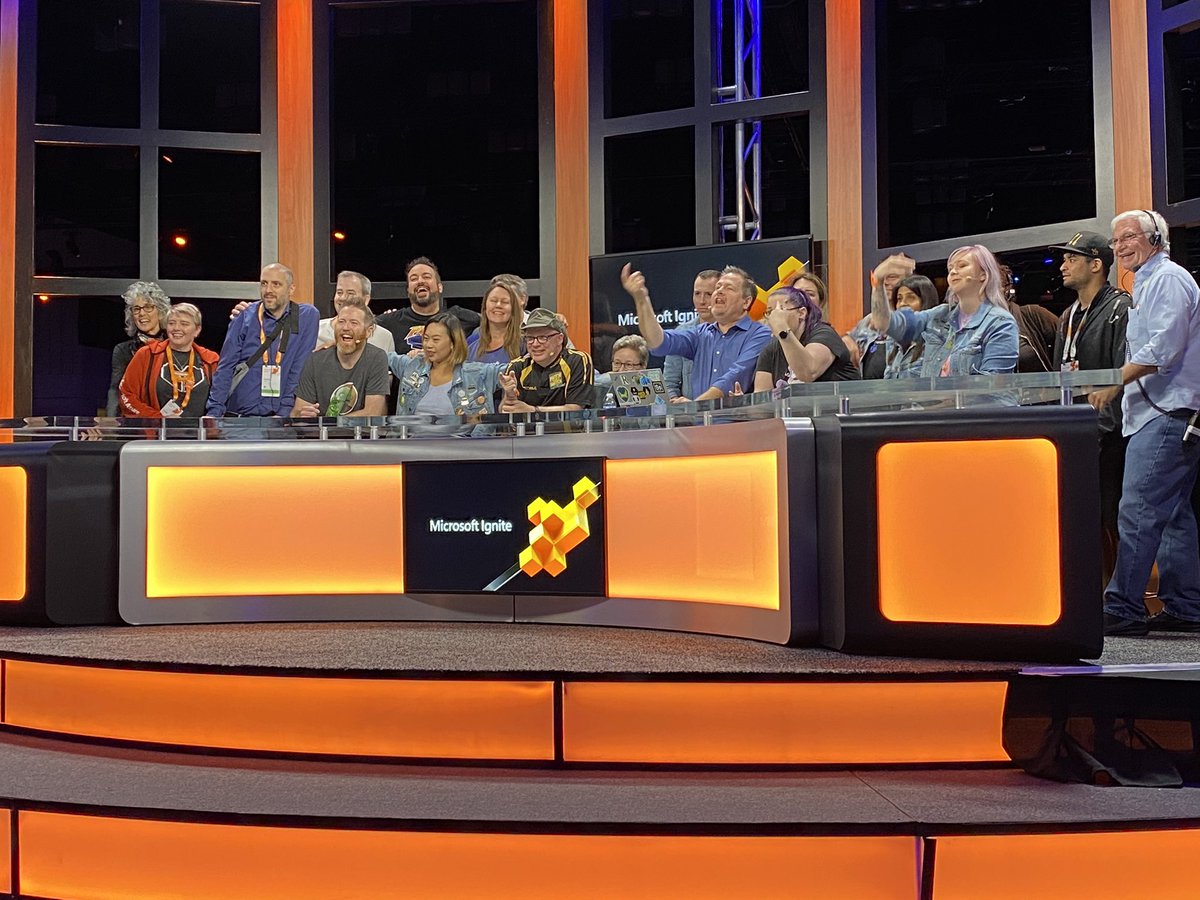 What is Your 5-year Plan?
I'm a planner. I like to have a clear path forward. When I know where I want to go, I feel confident that I'll get there.
This is true in all aspects of my life, including my job. I've had a plan to progress as a software engineer for my entire career. And if someone ever asked "What is your 5-year plan?" I was always able to answer with a clear path.
This all changed in 2017. My manager asked where I wanted to be in 5 years, and for the first time in my life, I couldn't answer the question.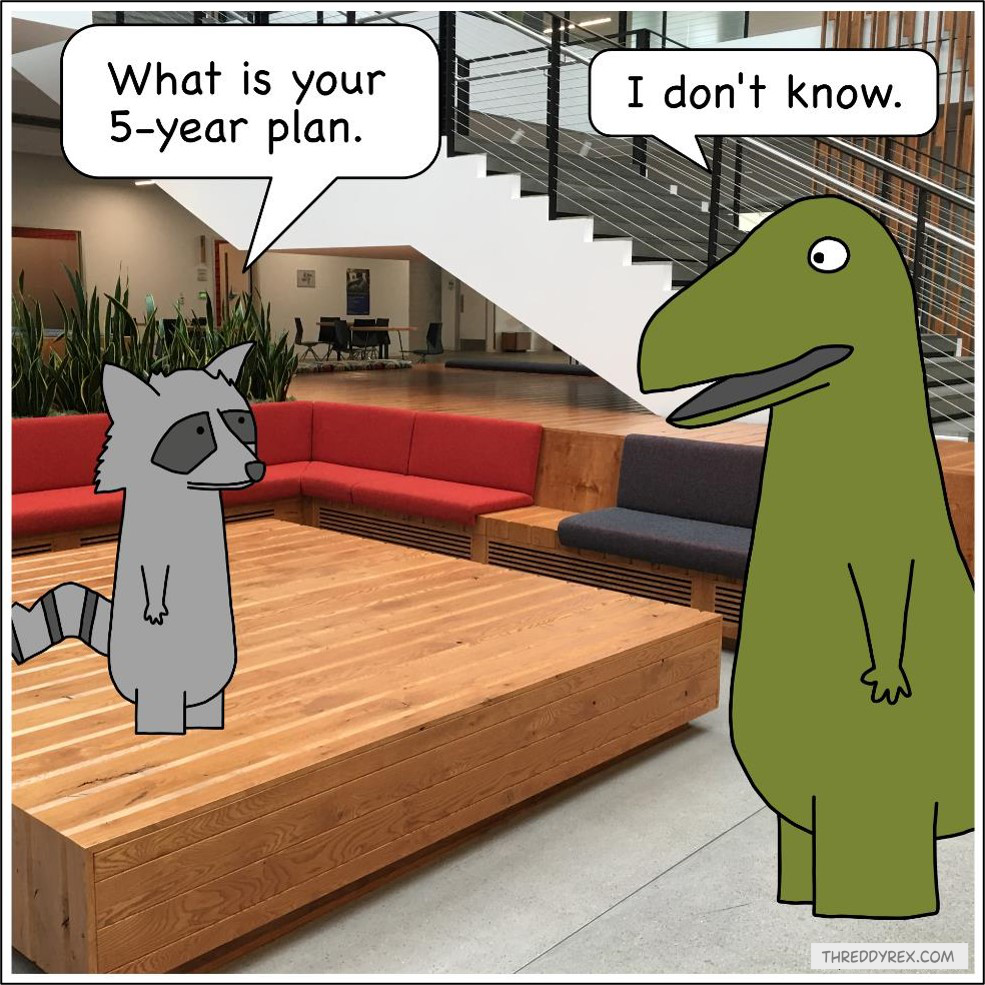 This was a scary position to be in. I decided I needed to find an answer to the question.
The Search Begins
I couldn't see a path forward in my career and I wasn't sure why. My assumption was that I didn't want to be a software engineer any longer. I decided to start thinking about finding another role.
My first thought was teaching. For the past two years I had been volunteering with the TEALS program. This is a program where they train industry professionals to teach computer science to high school students. I spent two years going into a local high school every day, teaching computer science, before going into work. It was a mixture of emotions - rewarding, fun, difficult, energizing. Ultimately I felt like this wasn't a good path for a full-time career.
My next thought was that maybe I needed to change teams. At any point in time at Microsoft, there are hundreds (even thousands) of open positions throughout the company. Maybe I just needed a change of scenery. I didn't try this, though. I liked my team. And my boss. This didn't seem like it was it.
Without any concrete ideas for changing role, I went back to the drawing board. I realized something about myself - over the course of my career, I didn't spend much time connecting with people. I would quietly do my work, and then go home for the day. Of course I would be on teams and involved in work discussions, but I didn't really do any networking. That became my next goal.
Threadzilla
My search for industry connections led me to Twitter. I had heard that it was a good place to have fun but also connect with like-minded folks in the industry. I created an account using my real name.
Things started slowly, but soon I met a bunch of folks that worked both at Microsoft and other companies. We would have these large threads called "Threadzillas" and tweet for hours about random topics, like pizza, movies, and how to pronounce the term "gif".
And these threads were epic. Literally thousands of replies per hour. One time I used the R language to connect with the Twitter API and graph the number of notifications over the course of an hour.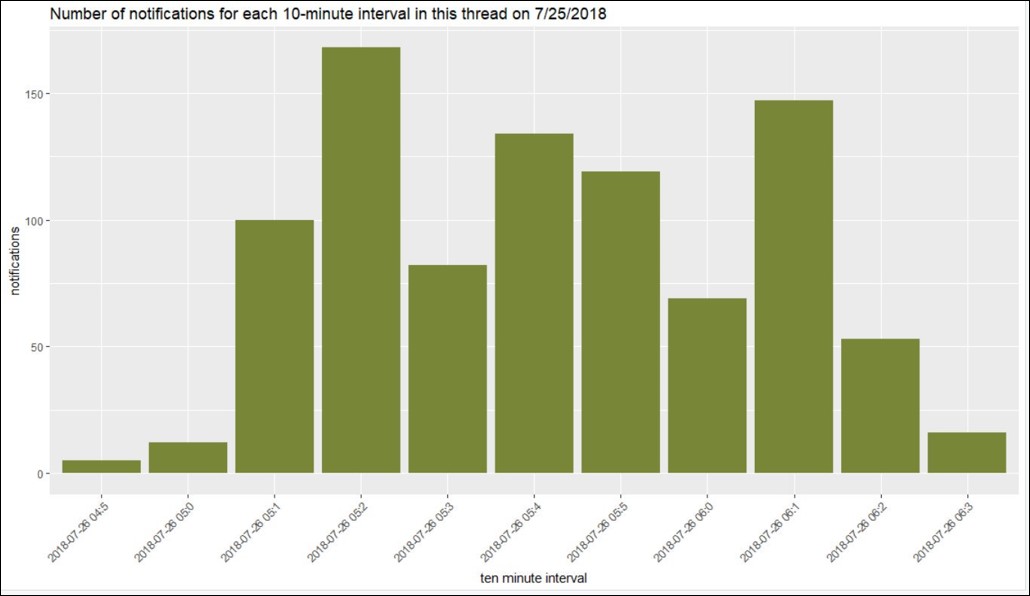 I hadn't figured out yet what I wanted to do with my career, but I was having a ton of fun, and at the time that's all that really mattered.
Art With Family
Family is the most important component of my life. My wife and I have two daughters and we spend a lot of time together as a family.
One day I took our older daughter and my parents to a local paint studio. It had unpainted ceramic figurines on shelves, and you could pick one and paint it. Then they'd glaze and fire the piece and you could pick it up a week later.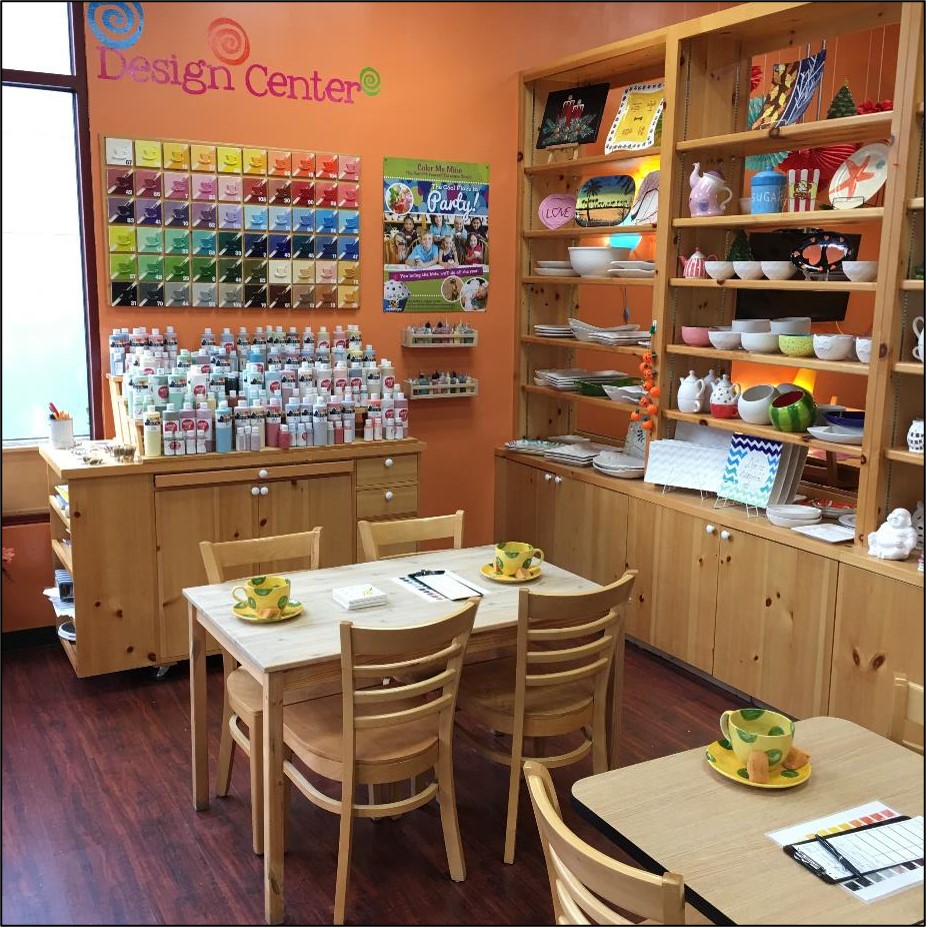 When I sat down at the table to paint, there was a Threadzilla happening at that very moment. They were discussing plans for meeting in person later that day (I was unable to make it that day, due to my family being in town. I remember being at the top of the Space Needle doing tourist things while some Threadzilla folks met in real life for the first time.)
During a recent Threadzilla, someone mentioned that we needed a mascot. I thought it would be a funny joke if I painted a ceramic mascot for the group. Since it was Threadzilla, I thought a T. rex would be a good choice. I named him "Threddy Threadzilla" as a reference to the group.
I posted a few photos of Threddy in Threadzilla. We had a lot of fun with it.
At one point, Ned Pyle suggested that I create GIFs of the dinosaur (or in Threadzilla terms, a "rick").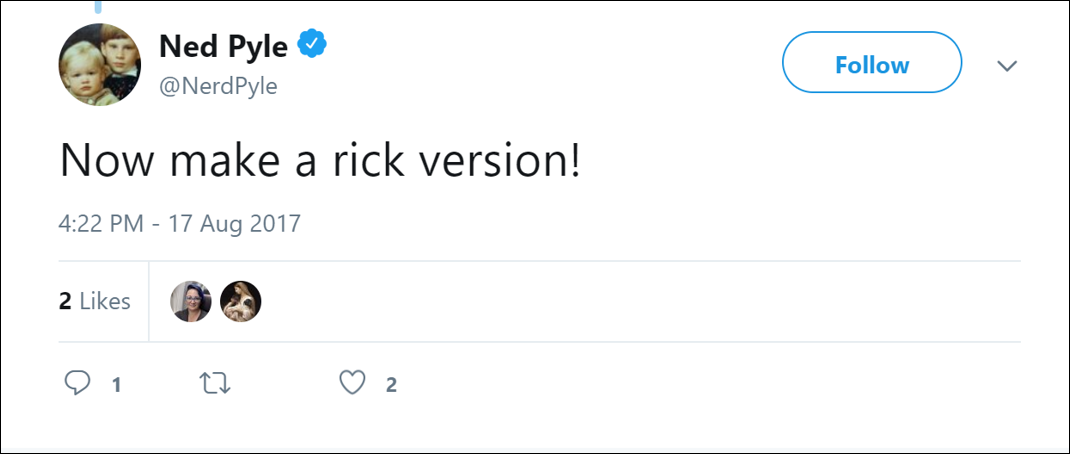 I downloaded a gif-creation app on my phone, created the first Threddy gif, and posted it.
Apparently it is both a.) easy and b.) fun to create GIFs of a ceramic dinosaur, because I proceeded to create over 1,000 GIFs of Threddy. You can find my old gifs on my Tenor profile, and recently I started adding gifs to Giphy.
I still hadn't figured out my career path, but I was too busy having fun to mind.
More Ceramic Dinosaurs
Soon after posting GIFs of Threddy, Carmen Crincoli asked if he could borrow Threddy for traveling. He wanted to take photos of the ceramic dinosaur in various stops during a cross-country road trip. I thought this was a really fun idea.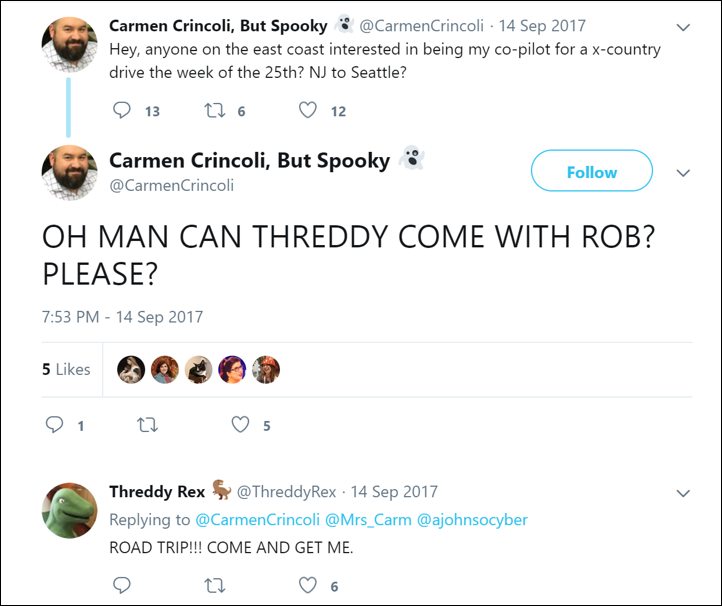 There was one problem - I didn't want the dinosaur getting damaged, lost, or stolen. So I went back to the ceramic studio and painted two more dinosaurs.
These two dinosaurs are Roadie (Carmen Crincoli's), and Cyber (Ann Johnson's).
Roadie took the road trip of a lifetime.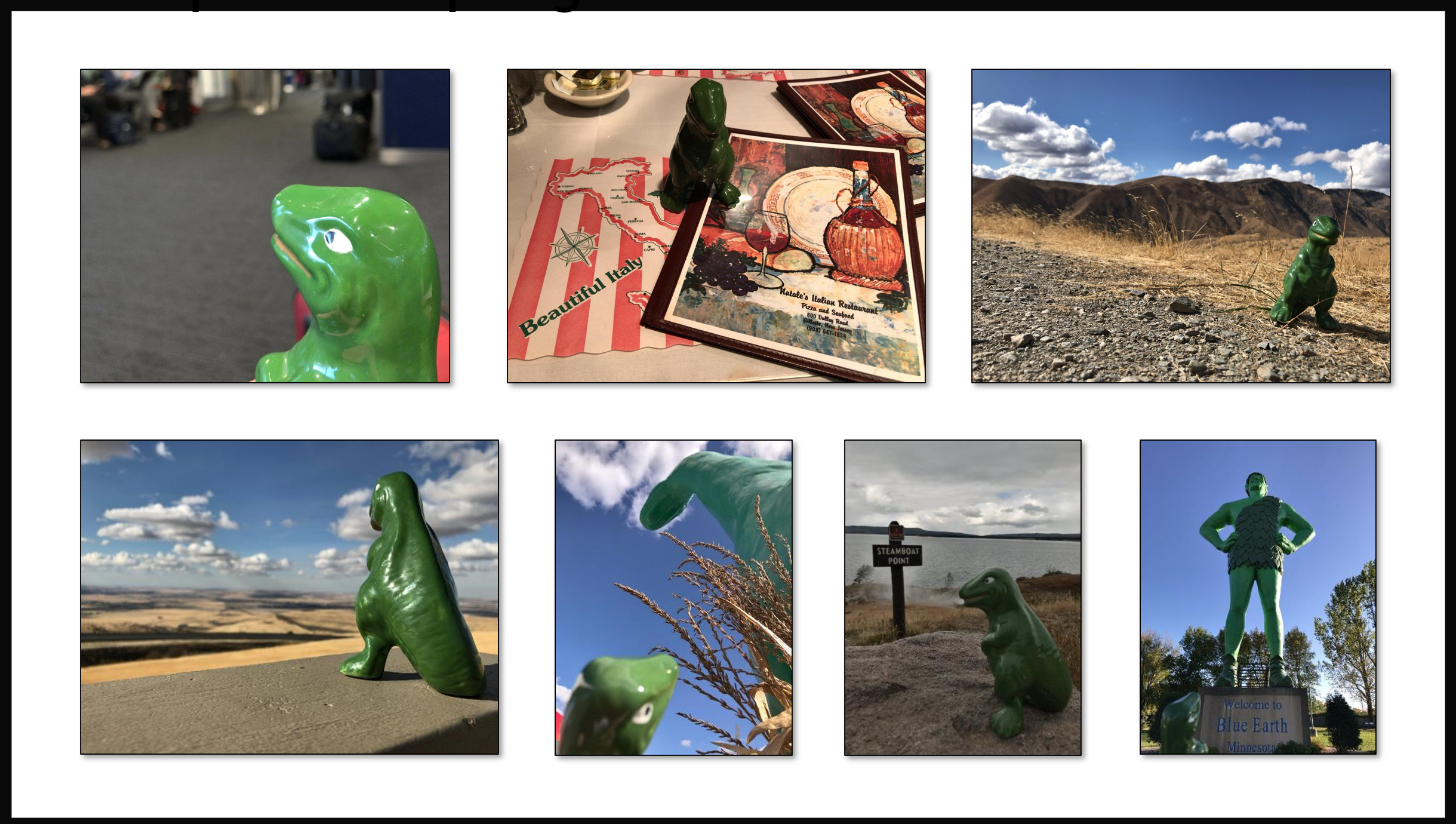 And Cyber helped Ann on stage while presenting security topics.
I didn't stop at three dinosaurs, though. Three dinosaurs turned into ten dinosaurs, which then turned into dozens. I lost track of the count, but I think I painted and gave away 30+ dinosaurs during this time. And they've been all over the world.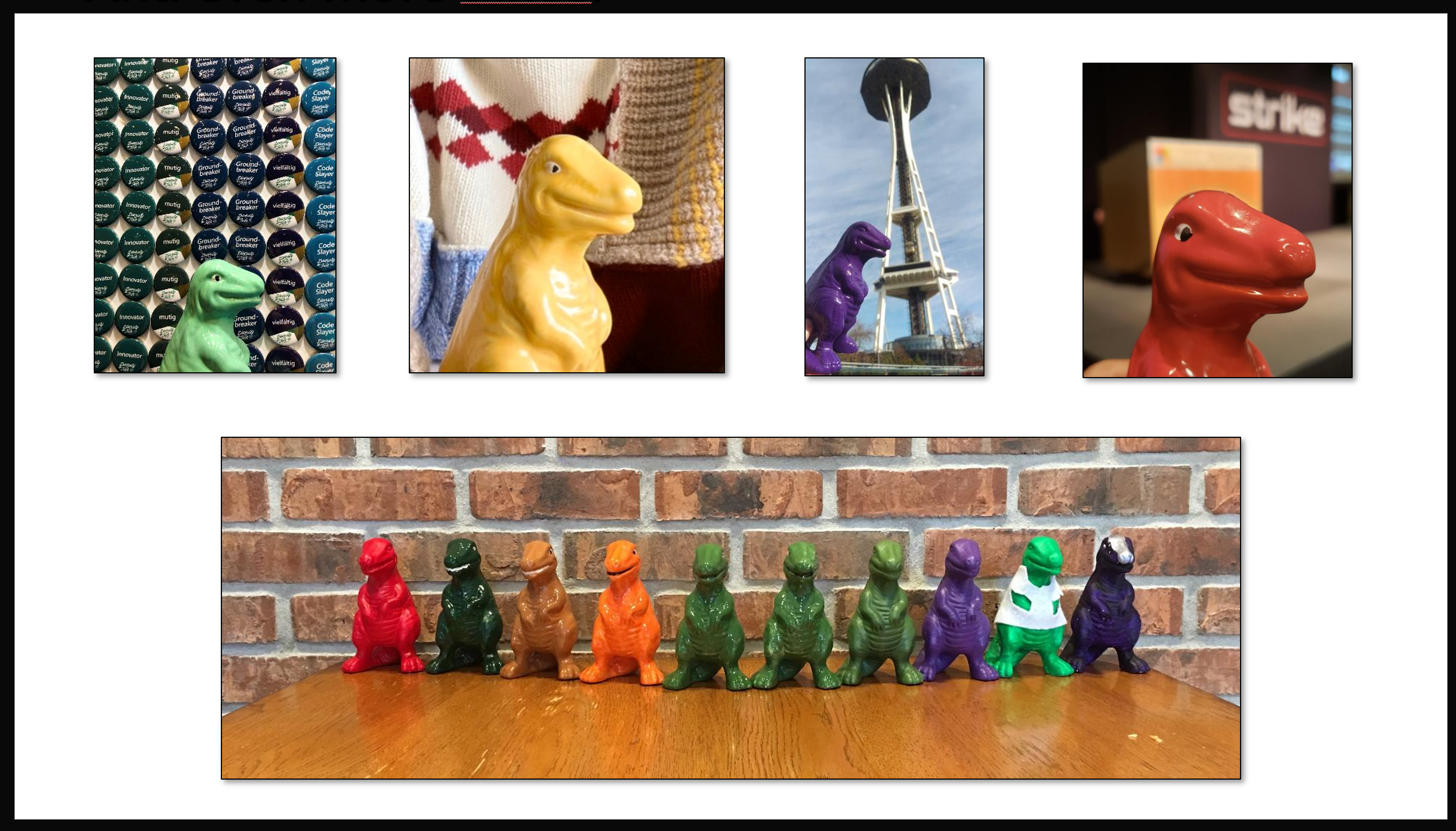 I haven't painted in a few years, and sadly the ceramic studio closed down. A piece of Threddy history has been lost.
The Comics are Born
During my presentation I didn't spend a lot of time talking about the comics, but they've become such a major component of this project that I need to briefly discuss them. A full discussion of the comics would probably require its own article.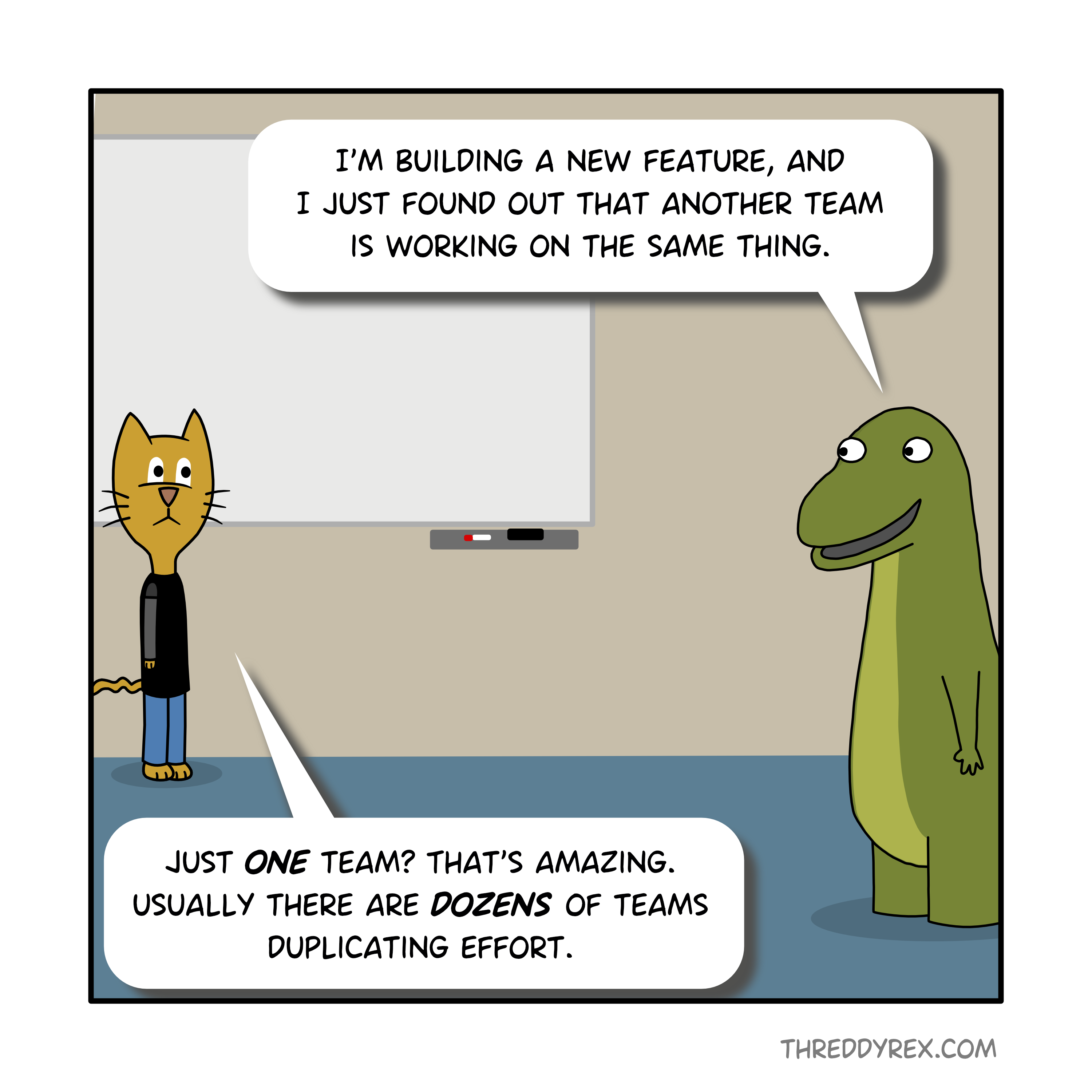 The comics started in 2018. I was looking for more ways to share Threddy fun that didn't require me painting and shipping ceramic dinosaurs. I drew a version of a T. rex and made a small comic with him. Soon after I created a raccoon character (Freddy) to be his boss.
In the time since 2018 I've created nearly 300 comics.
For several years I was using photo backgrounds of campus in the comics. Stairwells, outdoor pathways, treehouses, etc. Then in 2023 I decided to start drawing simple backgrounds.
You can see the full list of comics here. I'm still creating new comics to this day!
Merch
A discussion about Threddy wouldn't be complete without a mention of the merchandise.
It started with stickers. I made a circular sticker using the original profile photo. I ordered several hundred of these and handed them out on campus. Then I created a few enamel pins of the comic characters and handed those out too. I think during Microsoft Ignite 2019 I handed out around 500 pins. Along the way I've made stickers, pins, shirts, hats, and other items.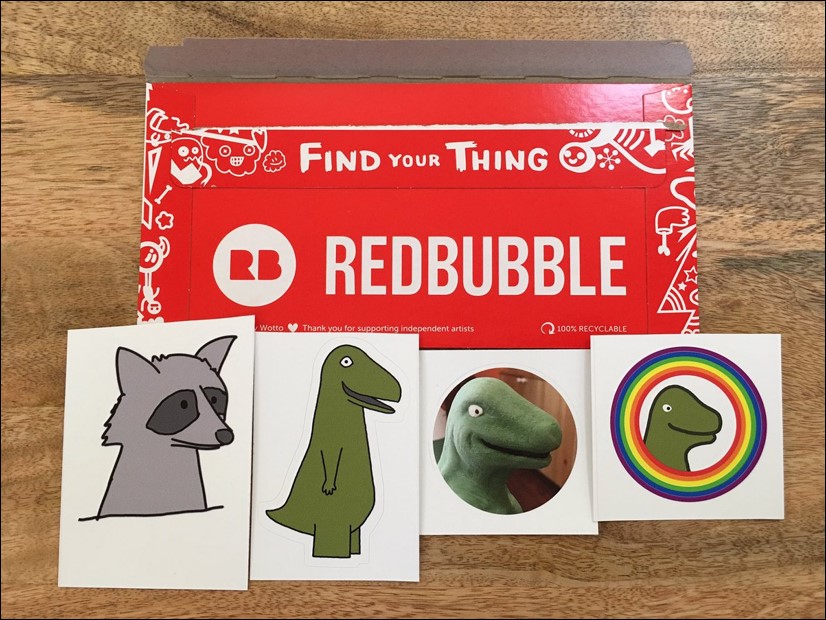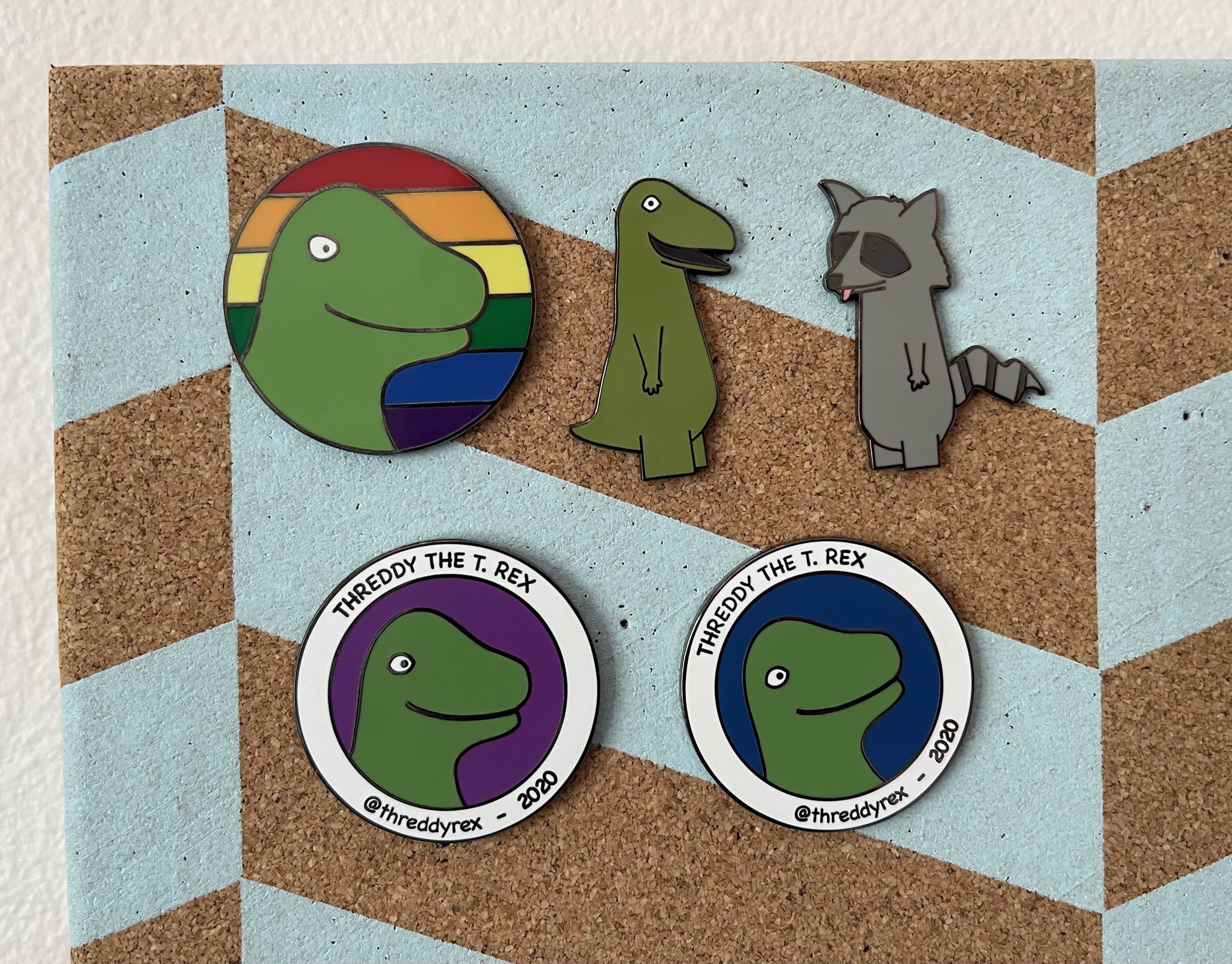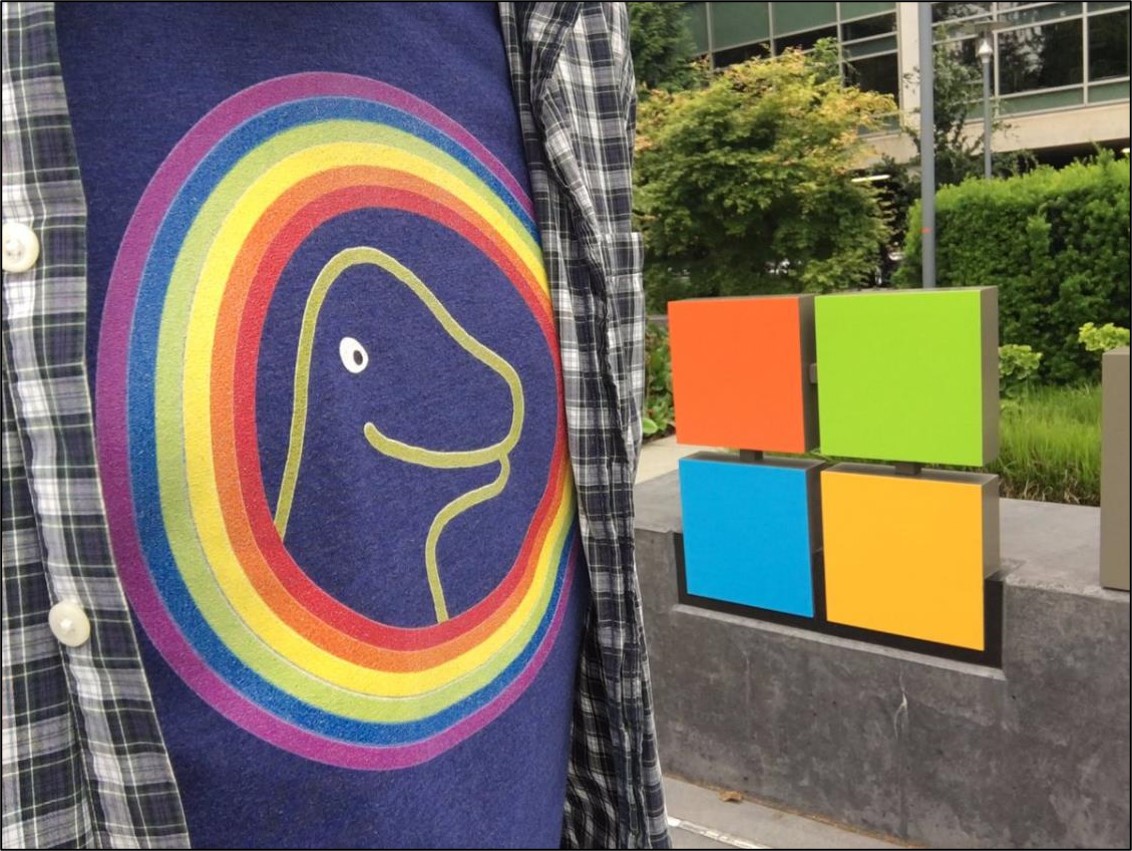 Standards of Business Conduct
Microsoft has yearly internal training for employees called (at the time) "Standards of Business Conduct". Every year they allow one employee to have a cameo in the videos, based on a charity auction that is held in October.
One year, friends of the ceramic dinosaurs pooled money and WON THE AUCTION. I was lucky enough to have a scene with Nelson, who is a famous character in the series. The original ceramic dinosaur was also included, as well as a fabulous t-shirt worn by Laura Hunter during a scene with Scott Hanselman.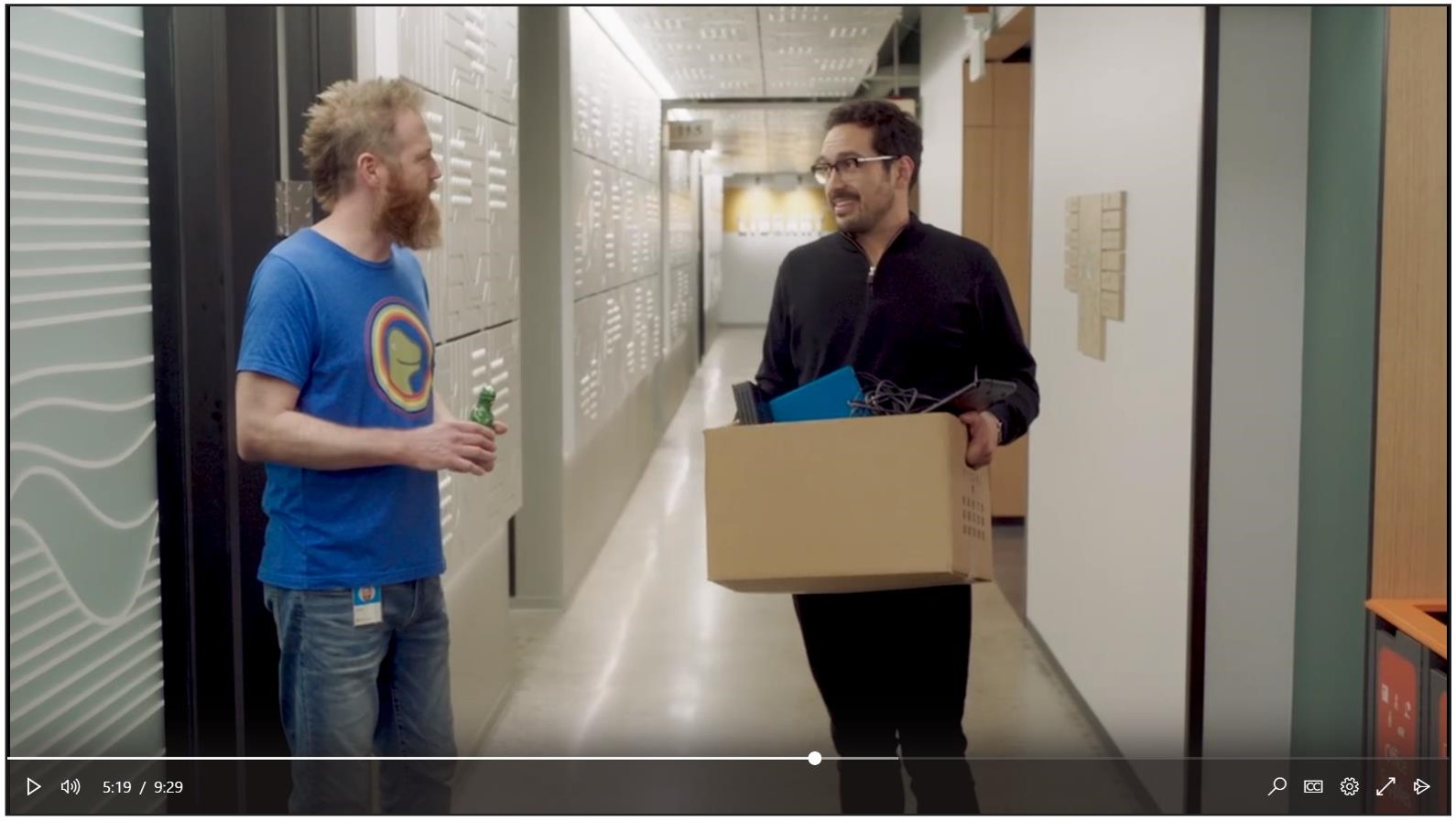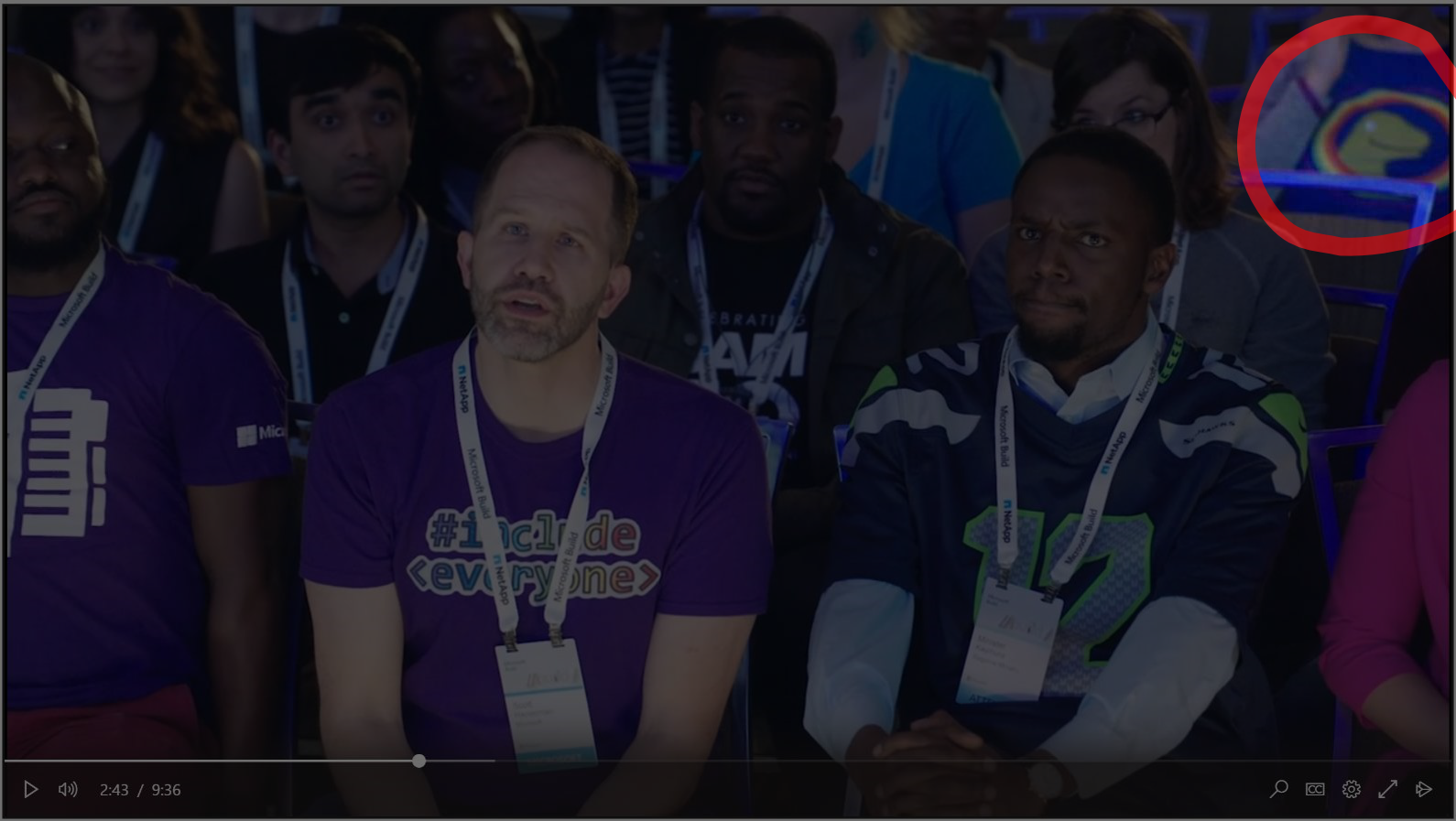 Burke Museum
I live in the Seattle area. At the University of Washington there is a museum called the Burke, which includes (among other things) a fossil of a T. rex named the "Tufts-Love T. Rex". In 2019 I donated money to the museum to support the building of a new facility, and this donation was recognized by a plaque in the lobby with Threddy's name on it. In late 2023 I visited the museum, and the plaque is still on the wall.
My current profile photo (the T. rex skull) is loosely based off of the Tufts-Love T. rex.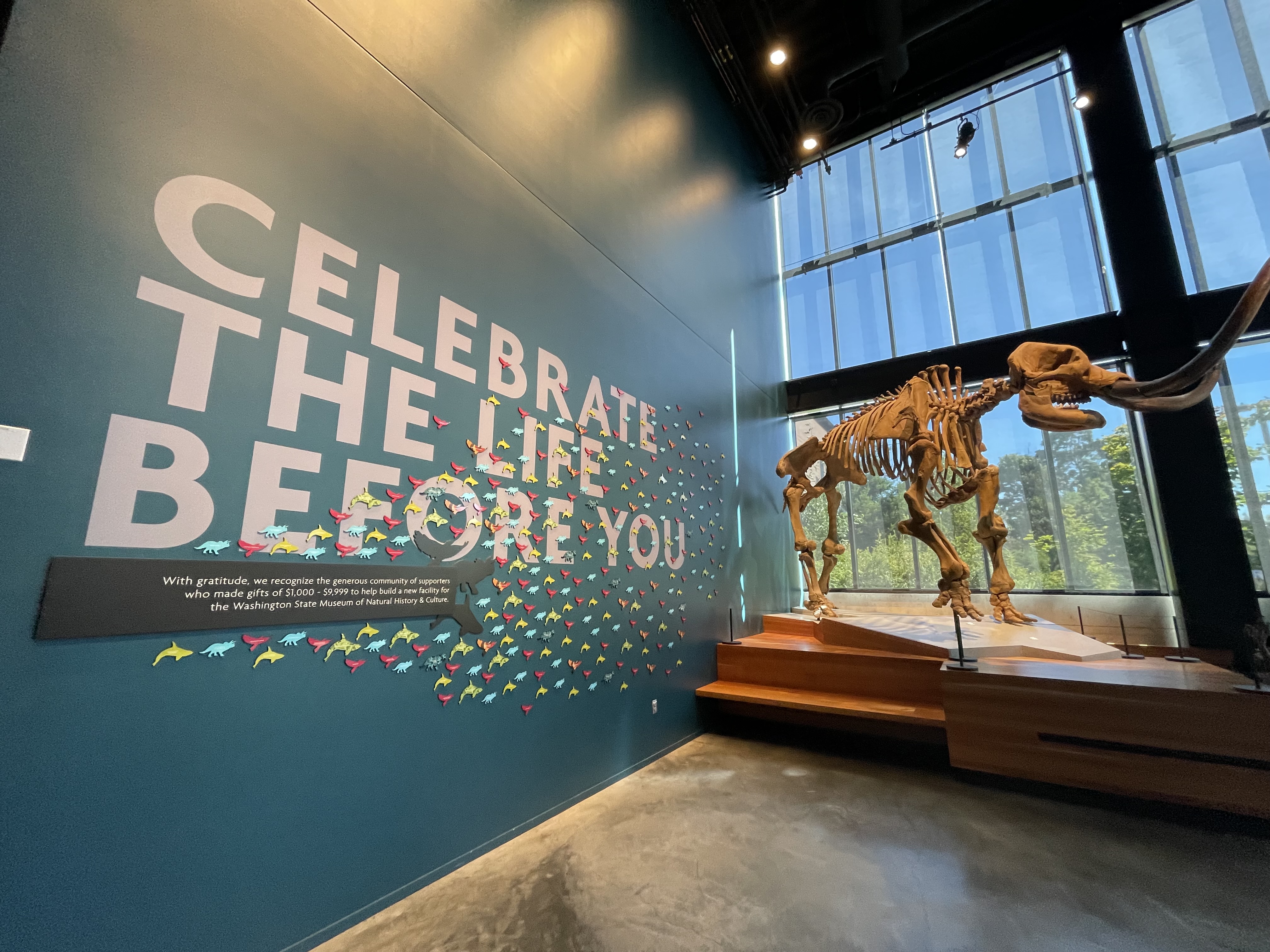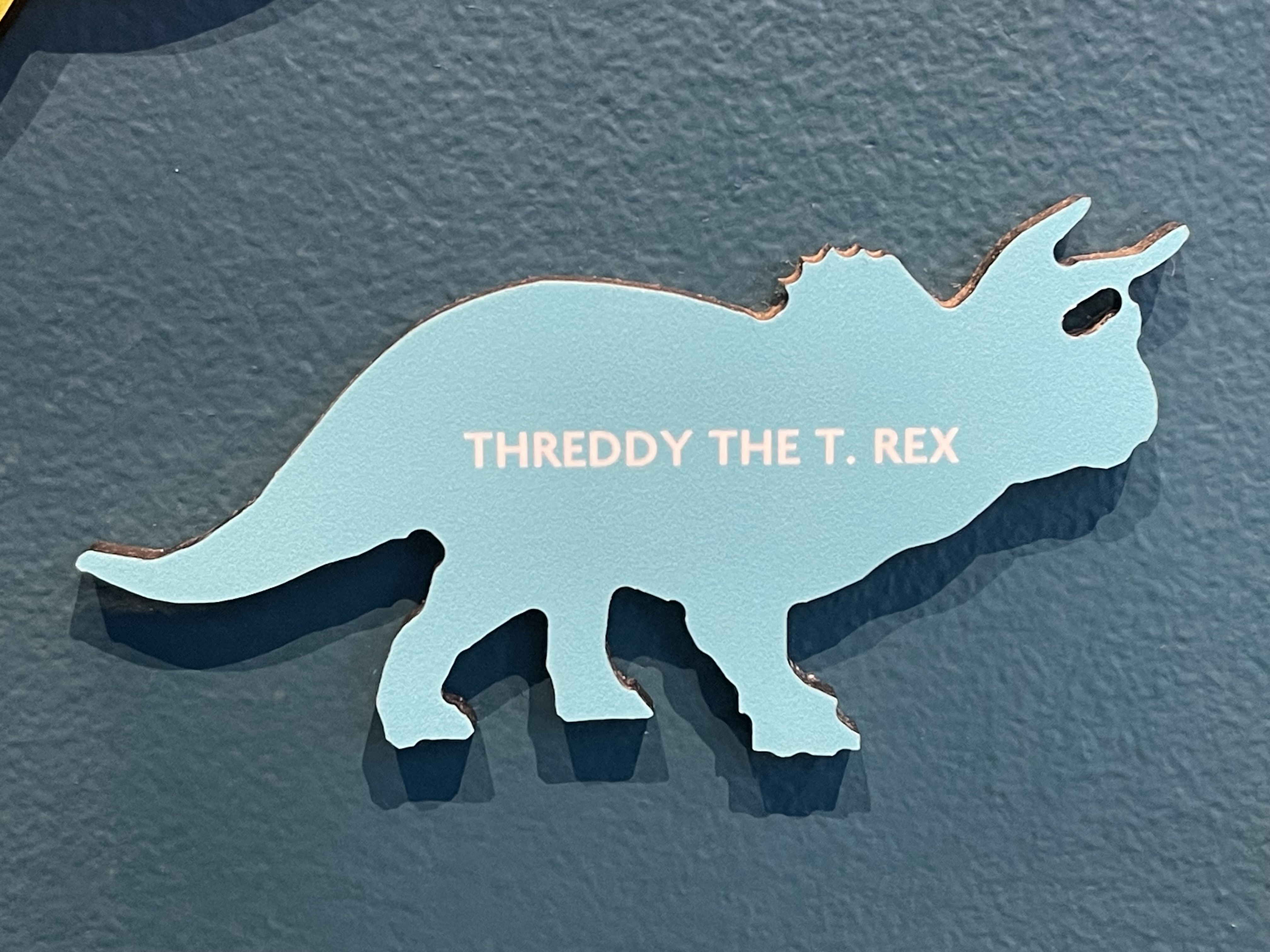 Career Path
This entire thing started with me trying to find my career path. Did I ever find it? No, I didn't. 😆
But that's ok, because I've since shifted my philosophy about careers. I no longer see it as a "path", but rather a "collection of experiences". I seek out new experiences that energize me and help me grow.
I talk about this and other principles in my article Career Principles.
Thank You
Before I wrap up I just want to say a huge THANK YOU to everyone that has been part of Threddy over the years. To the original folks on Twitter, to people I've met at Microsoft at Pancake Lunches, to everyone at conferences that I've chatted with, to the Tweeps in our internal Teams channel who are chatting to this very day!
Truly thank you. This project wouldn't be what it is without you all.
Updates to This Document
This document is a work in progress. I took a first pass and did the best I could, but I'm sure I've missed some things.
If there's anything you'd like me to add or modify (links to socials, names, story details, photos, etc.) please let me know!